Have a exciting Ninja training based on ancestral Ninjutsu techniques.
Wear a Ninja costume and practice some fighting arts.
Come and enjoy a historical experience as a Japanese memory.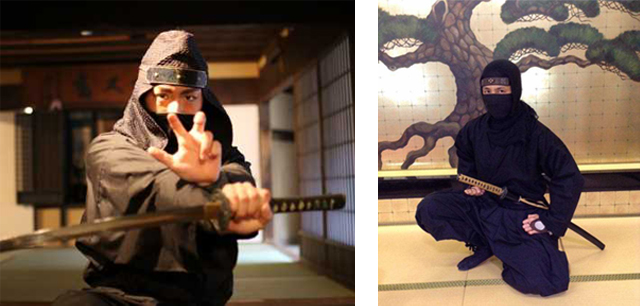 Duration
60 minutes
Fee
20,000 yen per group of up to 5 people
(We do larger groups upon request)
Audience
Children & Adults
Foreign visitors are also welcome!
Translation service available (not included in fee)

Contents
Hands-on practice with weapons such as Fukiya (Blowguns),Shuriken (Throwing stars) and Kodachi (Short sword).
Learn the basic shinobi ("stealth") skills for Self-defense.
Ninja show also available as a special party event.
Take a photo wearing an original Ninja costume.

We can adjust according to your needs. Previous contact is necessary.

Classroom
Nagoya Ekimae
Address
Daiichi Bldg 10F
4-5-27 Meieki, Nakamura-ku
Nagoya-City, Aichi, JAPAN 450-0002
Map

EXPAND
Directions
If coming underground, go out at Exit #7 of Unimall.
We are on the 10th floor of the Daiichi Building on the right hand side of Sakura Dori (The first floor is a JTB).
Please use the building entrance next to the JTB and take the elevator to the 10th floor.
From Nagoya station to us, a 3 to 5 minute walk.
Open
From Monday to Friday : 10:00 ~ 21:00 Saturday: 9:00 ~ 19:00 Sunday : 10:00 ~18:00
Close
National holiday and company calendar
Contact
Phone : +81-52-566-2200(Shoun Gakuen Nagoya Ekimae Office)
Email : nin@e-nippon.co.jp